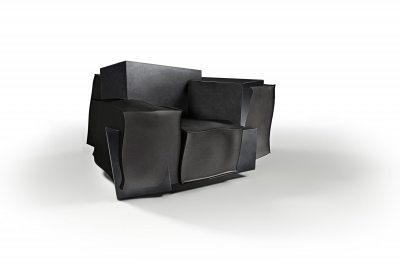 TRON Armchair by Cappellini designed by Dror Benshetrit
TRON Armchair Special Production in collaboration with Walt Disney Signature
Giulio Cappellini presents a set of unique TRON Armchairs custom hand-finished by Dror Benshetrit for Walt Disney Signature.

These unique armchairs inspired by Disney's soon-to-be-released film "TRON: Legacy" will be individually hand-finished by Dror. Benshetrit pays homage to the digital landscape of the Outlands terrain in "TRON: Legacy". Raw data forms a jagged and angular landscape, serving as a muse for the chair that is comprised of intersecting layers and textures of 'digital' rock.
Dror's mission is to articulate the complex meaning of objects in the simplest of ways. Their uses become part of their narratives, expressed in transformations that are both metaphorical and literal. These armchairs challenge the difference between a physical collision, and a collision in the digital world. In playing with the tension between two slightly different forms that possess almost the same space, the result is a tension that is both disturbing and harmonious. Constructed of composite material consisting of impregnated fiberglass with polyester resin processed with manual layering, these Special Production TRON Armchairs invite you to "sit off the grid".
The Special Production Armchairs will be presented in the Cappellini/Poltrona Frau Miami Showroom during Design Miami 2010.
Cappellini Miami/ 10 N.E. 39th St., Design District, Miami, FL 33137